RESPONSIVENESS TO SOCIAL REFORMS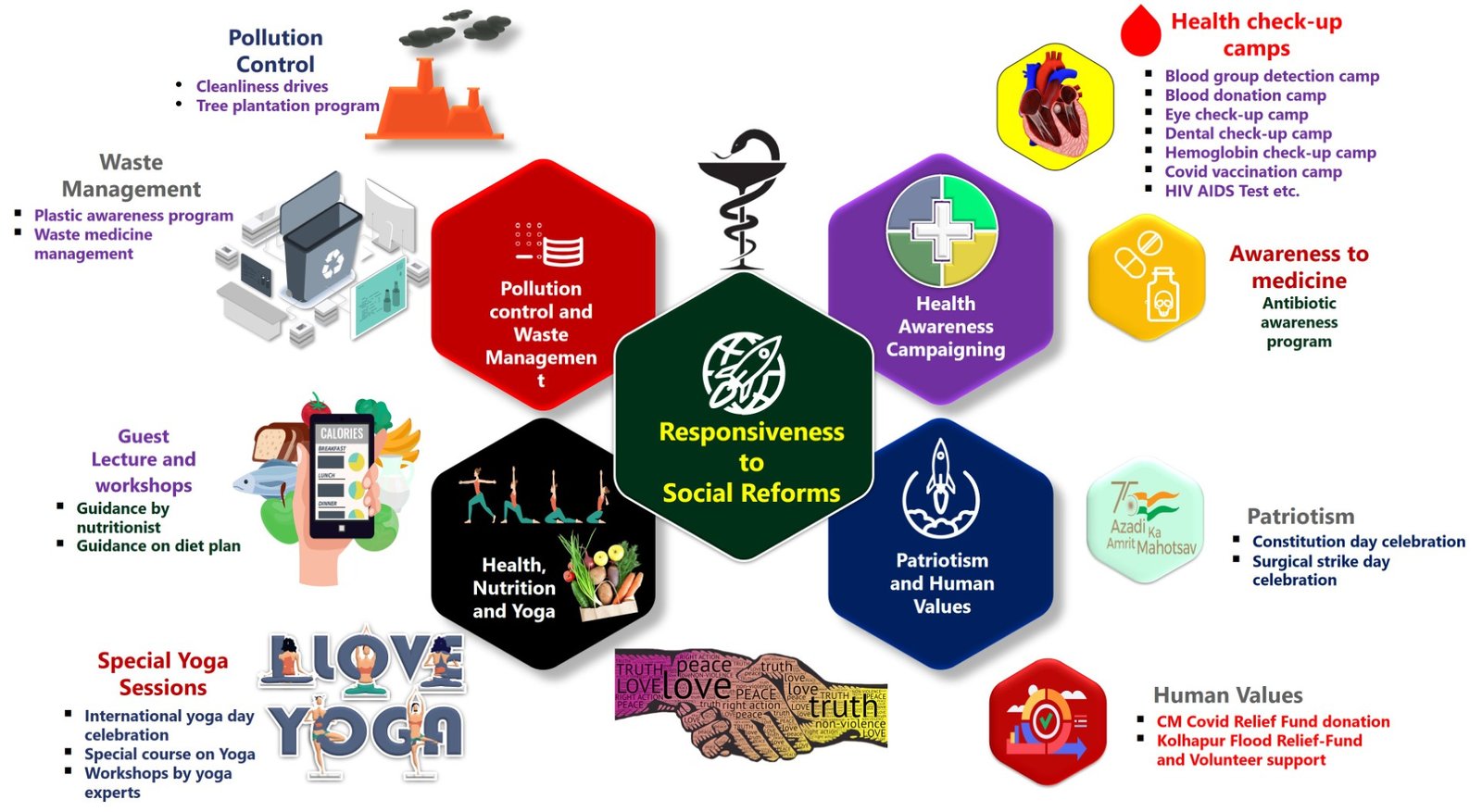 Objective of practice
Following objectives are set to implement the practice among students:
To develop a feeling of social and civic duty among students;
Recognize the needs and issues of the community in which they work;
Recognize themselves in connection to their community;
Identify the needs and problems of the community and include them in problem-solving.
Gain the skills necessary for living in a group and dividing up tasks
Develop your abilities to encourage community involvement.
Improve the capacity to respond to emergencies and natural disasters;
Promote democratic attitudes and leadership skills;
Put social peace and national integration into practice.
The context
The institute has planned numerous initiatives for the benefit of society since the vision of RSCP is to develop optimistic, committed, skilled, and ethical pharmacy professionals to fulfill the healthcare needs of society. As a pharmacist, one must assume responsibilities as a patient counselor and medical advisor for society. Our institute has held diverse health checkup camps and other activities in order to help students develop these qualities. Organization contributed to the Covid19 Chief-Minister Fund.
The practice
RSCP's Health and Medical checkup camps:
All RSCP students and NSS volunteers have been contributing back to society by organizing various health checkup camps, including those for underprivileged members of the community that include dental, blood sugar, hemoglobin and blood group detection, street plays on pharmaceutical waste management, and Covid vaccination camps etc. in order to help students develop these qualities.  
RSCP contributed Medicine Aid to the Kolhapur-Sangali Flood victims (2019):
RSCP students and faculty provided free medicine and counseling to flood victims in Kolhapur and Sangali. The Chhatrapati Sambhaji Maharaj Foundation hosted a five-day residential camp.  RSCP has contributed medicine of cost around Rs.150000/- in association with Kolhapur doctor's team. This simulation taught students natural catastrophe response. All beneficiaries valued it.
RSCP's contribution in betterment of Woman's Health and Yoga:
RSCP has regularly held health checkups, vaccinations, free hemoglobin checkup camps, blood type detection camps, HIV AIDS detection camps, yoga classes, and awareness drives on the theme "Healthy World Good Food: The Importance of a Nutritious Diet for Women and Adolescent Girls." RSCP students created camps to highlight women's role in social harmony. Women's health and care awareness campaigns are frequently organized.
RSCP's efforts on waste management and pollution control:
RSCP primarily works to raise public awareness about pharmaceutical waste management. Many student groups conducted street plays on this theme in adjacent areas and also used PowerPoint to communicate this issue to local people. As part of the Clean India effort, plastic garbage awareness drives were held on a regular basis, coupled with street play. Every year, student's plant trees and care for them. Students and staff took efforts every day to reduce power waste.
RSCPs' responsiveness towards Patriotism and Human Values:
Students and staff are encouraged for participating in the various activities which builds camaraderie and patriotism. Constitution day, surgical strike day, freedom fighters commemorative day and many patriotic activities are being conducted in the campus. Flood-relief fund, free medicine distribution and active volunteers support is provided to the flood victims and pilgrims.
Evidence of success
RSCP students' flood relief efforts at Kolhapur in 2019
NSS camp at Bhadola and Sakhali Bk, village with appreciation
The Buldhana Municipal Corporation and Forest Department praised the students' tree-planting and clean-up initiatives
Students' yoga enthusiasm shows in their daily lives
Students connected with society, counseled, and administered prescriptions to patients
Students' patriotism was encouraged by honoring the birthdays and funerals of significant people who helped create their country
All college students and staff watched a movie like Uri on Army Day or celebrating surgical day builds camaraderie and patriotism.
Problems Encountered and Resources Required
There is no accessible Medical Waste and Hospital Waste Management in any of the close-by urban centers.
The public has a poor understanding of pharmacists' functions.
JOURNEY TOWARDS ACADEMIC AND RESEARCH EXCELLENCE
Objective of practice
As stated in the institute's vision and mission, it is committed to giving students access to a research and training environment along with academic excellence that will help them learn new skills and get ready to work in the workforce and serve society. 
Following objectives are set to implement the practice:
To encourage students to think outside the box
To generate innovative and creative solution to social issues
To foster a culture of research among students
To offer a platform for the expression of creative ideas
To achieve academic excellence through research and skills making the students Industry-ready.
Context:
The practice is being implemented to strengthen institutes' connection with the outside world with the aid of Innospire and the RSCP Spark-Club activity. This helps us in making the students more competent with the world and also creates new learning thrust in innovative way.
The practice
A. RSCP-Innospire
The institute annually hosts a competition for new ideas at the national level. A number of the top pharmaceutical industries support Innospire. The innovation idea, model, and startup-related concepts are presented by students in the form of posters, which are quite instructive and inspiring. The highly qualified industry expert evaluates the creative idea models. Such activities are desperately needed at institute to ignite the spark among the students and foster the development of more creative minds.
B. RSCP-Spark:
The goals listed below are taken into account when implementing this technique so that students can better position themselves to obtain excellence in their careers.
Objectives:
Self-analysis (SWOT) of students
To boost confidence level of students
To work on communication and soft skill development
To inculcate team spirit and leadership
Major areas of RSCP-Spark:
Presentation and 'Group Discussion Club'
Enhance communication skills
Soft Skills: Special emphasis on etiquettes and mannerism
Language Club
Evidence of success
The outcome of this strategy has been a consistent improvement in staff and student performance. The sharp increase in the number of staff and student-written articles published. Increase in Students qualifying in competitive examinations like the GPAT, the NIPER, and other certificate exams have been increasing over time. IPR: 23 patents in last 5 years.
Problems Encountered and Resources Required:
Requires more research funding from Govt. agencies
Less industrial exposure due to remoteness