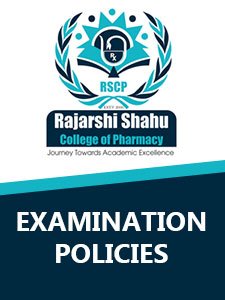 Rajarshi Shahu College of Pharmacy, Buldhana follows its own exam rules and regulations prepared by the examination committee (For Internal Exam). The Examination Committee shall have the final authority in matters concerning examinations. Following are the members of exam department.
| | | |
| --- | --- | --- |
| SN | Member | Designation |
| 1. | Dr. Shirish Jain | Chairperson |
| 2. | Mr. S. S. Hurpade | Exam In charge |
| 3 | Mr. P. R. Devhare | Member |
| 4. | Dr. S. Dehmane | Member |
Internal examination is held twice a semester, one in the middle of the semester and the second prior to the End Semester University examinations.
It is mandatory to all teaching and supporting staff of B.Pharm & M.Pharm to strictly follow the rules & regulations of exam department.
Designing of question paper, submission of it, evaluation & filling of marks etc. should be strictly as per format & process decided by the exam department.
Submit the question paper with COs in a given format & pattern of PCI or SGBAU within a given period.
Follow the Time-Table for theory as well as practical examination and supervision duties as per notice.
Try to avoid replacement in duties, if any emergency persist make an alternative arrangement and inform to well in advance to exam department.
Supervisor & supporting staff should report to the exam department before 15 min. of the exam.
During supervision distribution of answer sheet, supplement and question paper should be roll number wise.
Before distribution of answer sheet give the instruction of students regarding details on answer sheet and supplement.
After verification of details put your signature.
Complete the attendance report during exam period.
Attendance report should be neat & clean, don't overwrite or scratch on it.
After completion of examination, counts the answer sheet, arrange it roll number wise and submit to exam department.
If any consequence is occurred concern supervisor & supporting staff will be responsible for that.
Don't leave the exam hall during examination.
Don't allow the student who is late more than 15 min. from the commencement of examination.
After completion of exam it is mandatory to for both to report exam department.
After completion of exam collect answer sheet bundle from exam department on same day of concern subject.
For practical sessional exam collect the required number of object in a given period and conduct the practical sessional strictly as per time table.
Evaluate the theory as well as practical answer sheet, show the papers to the student, display the mark on exam notice board, update the same on Vmedulife and fill the mark carefully without any overwriting in mother register within EIGHT DAYs.
If my mistake wrong marks get filled in the mother register the same will be submitted to the university so it is the whole responsibility of concern subject incharge.
As per the SGBAU rule to correct the mark there will be fine Rs. 2000 and that will be recovered from concern subject incharge.
Prepare continuous mode documentation and record as per given format only, communicate the continuous mode mark to the student before filling into the mother register.
Do the addition of best of one and continuous mode marks for theory as well as practical and show the total mark to student.