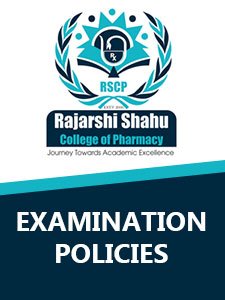 Rajarshi Shahu College of Pharmacy, Buldhana follows exam rules and regulations prepared according to SGBAU norms by the examination committee (For Internal Exam). The Examination Committee shall have the final authority in matters concerning examinations. Following are the members of exam department.
| | | |
| --- | --- | --- |
| SN | Member | Designation |
| 1. | Dr. Shirish Jain | Chairperson |
| 2. | Mr. Sandip Hurpade | Exam In charge |
| 3 | Dr. Vijay Borkar  | PG  |
| 4. | Mr. Parmeshwar Devhare  | UG |
Internal examination is held twice a semester, one in the middle of the semester and the second prior to the End Semester University examinations.
All the teaching and supporting staff of B. Pharmacy & M. Pharmacy to strictly follow the rules & regulations of exam department.
All have to submit the question paper with COs towards exam department.
Complete the attendance report during exam period.
Attendance report should be neat & clean.
Don't leave the exam hall during examination.
Don't allow the student who is late more than 15 min. from the commencement of examination.
Summit the internal marks towards exam department.
For practical sessional exam collect the required number of objects in a given period and conduct the practical sessional strictly as per timetable.