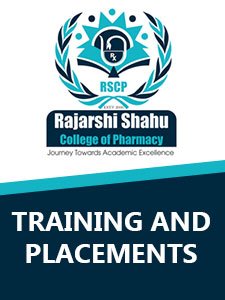 training and placements Activities
Rajarshi Shahu College of Pharmacy, Buldana signed MoUs with eleven pharmaceutical industries. The purpose is to work in collaboration in the field of industry oriented academics, research and overall development of students. The institute has organized visits to A-Klass Pharma, ICT Mumbai and Merck Life Sciences Mumbai.
We have conducted three days workshop for students in association with our training partner Rubicon, Pune. "Connect with Work" was conducted on 12th to 14th March 2020. Mr. Sanjay Upadhay-our College Development Committee member and Sales Manager of Hero Group conducted Life Skill Development Program during lockdown 1st April 2019- 1st June 2019. Special employability skill development program was organized in association with Rubicon, Pune during 15th to 18th Nov. 2021
Objective of this program was to enhance their Life skills which would help them significantly to increase their chance of succeeding in a job interview. This training covered areas like Organizational Structure, Public Speaking, Presentation Skills, E-mail Etiquette, Grooming, Group Discussion, Personal Interview. Both the trainers were highly energetic and interacted with students in highly effective manner. Students expressed immense satisfaction and gratitude to institute for organizing this program.
Sr. No.

Date

Name of the Activity

Name of the conducting organization

Trainers Name and Contact No

Nature of Activity

No.  of the Students Participated

1

12th to 14th March 2020

Connect with Work

Rubicon, Pune

Mr. Amir Virani-7775081147

Mrs. Yugandhara Saoji-9823423536

Soft Skills and Interview Techniques

90

2

1st April 2019- 1st June 2019

Life Skill Development

–

Mr. Sanjay Upadhay

Life Skill Development

25

2

 

Connect with Work

Rubicon, Pune

Niti Mudgal Sharma-8591013241

Pearl Patel-7045342238

Soft Skills and Interview Techniques

94
Sr. No.

Name of the Company/Institute  visited

Date of visit

Details of Visit

Purpose

1

A-Klass Pharma, Khamgaon

24th April 2019

Students observed various manufacture and post manufacture processes and documentation maintained.

Had interaction with Plant Manager Mr. Supda Adhav Sir and Managing Director of company Mr. Krushnakant Bhattad

 

To provide real time exposure manufacture activity

2

Institute of Chemical Technology, Mumbai

7th Feb. 2020

Observed research labs and library

Had interaction with Dr. Vikas Telvekar Sir and Dr. Vandana Patravale madam

To observe and study research activities carried out in ICT

3

Merck Life Sciences, Mumbai

7th Feb. 2020

Observed research labs.

Had interaction with Manager Dr. Hemgir Gosavi Sir

To provide real time exposure of  industrial research  culture