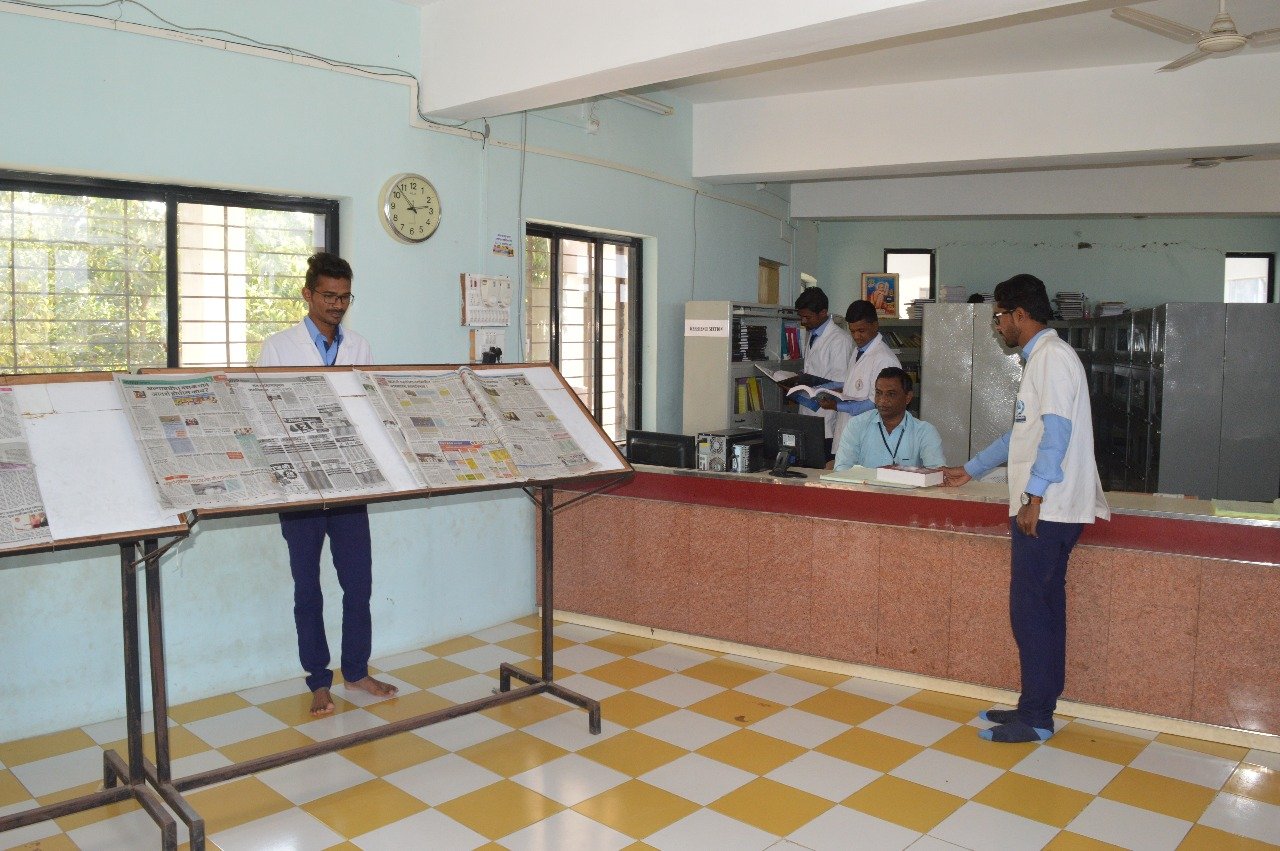 The library of Rajarshi Shahu College of Pharmacy aims at providing access to its printed resources such as books and journals as well as electronic journals and online databases primarily for the use of faculty and staff at institute. Its holdings should reflect their interest largely. The library stock is increasing at a rate of approximately 1000 books a year. The library also subscribes many current periodicals and to a range of electronic journals and databases. The library is supervised by a committee consisting of the librarian and other members from the faculty.
The library system normally consists of Central Library. The central Library supports the general information for the users for study and research. By considering a set of minimum parameters listed below would help to ensure quality in library systems.
Monday to Saturday: 10.15 am to 6.15 pm
Except on Sunday and Public Holidays
Main library building, Students reading room, Newspaper gallery, proper furniture, necessary quantity and quality of reading chairs and table, display racks, magazine racks reprographic facility etc. the service counter. Proper ventilation, fans and drinking water facility. Fixing of notice boards. Uninterrupted power supply system along with regular cleanliness.
Policy of the Institution on Library
Library have policy on the collection development support. Library use to call the list of required books, journals and periodicals from subject teachers and collect the Demand Slips from students. Introduction of new services, policy on loss books, annual budget, binding procedure, policy on loss of book.
Collection: The library is provided with resources that support its mission and the needs of users.
Library may maintain a Special collection for Competitive Examination. The library is maintained through institutional policy. The library has a key role in supporting the academic activities of the institutions by establishing, maintaining and promoting the library and information services both quantitatively and qualitatively.
The library offers following services
Publication and Research Supports: The library published the various institutional advertisements, advertisements of various activities of the colleges in newspapers. The library displays important academic information on Library Notice Boards. Library provides the Research Support Services to the researchers through Special collection and journals.
Library display information concern Library activities.
Library provide bibliographic book of list
Library provide Reprographic Service to users
User Orientation Programme. : Library provides Library Orientation Programme per year for new comers in the class room. How to borrow the books, Library Rules, and Library facilities.
Library provides its services through the LIB MAN software.
Internet: College has Wi-Fi facility. Students use this facility.
College Library has a membership of DelNet.
Best Practices of Library
College Library Provide the SC/ST Book Bank Scheme for students of the institute.
Beginning of the Academic Year a general orientation and presentation provide to new comers.
Library arranges various programs for the students.
Collection of important information and provide to users.
Year wise Question Paper Repositories Displaying new arrivals of books Suggestion Box and timely response.
Collection of Thesis from Ph.D. and M. Pharm. students.
New Books Presentation (Granth Pradarshani) Celebrating the birth anniversary. Social activities etc.
College IDENTITY CARD is required during issuing and receiving.
Check the book pages before issuing of book. After issued the book students are responsible for the damage of book. He/she will be fined as per library rules.
All transaction are made in cheque with discipline.
Periodicals are available in reading room only.
Books are issued only for a week.
A fine may be charged for late deposit of book.
Only PG students and Research scholars are allowed in Special Reference Room.
Special Library Service is available for disabled student.
Please keep silence in library premises.
Suggestions are invited.
If any suggestion please contact or write to Librarian and Library Co-coordinator.
Particulars

B. Pharmacy

M. Pharmacy

Total

Total Books

3962

765

4727

Books Title

510

230

740

Journals
(National-International)

32

12

44

E-Journals

2

1

3

Periodicals

12

12

12

Newspapers

13

13

13
Constitution of Library Advisory Committee
Sr. No.

Name

Designation

1

Dr. Shirish Jain

Principal, Chairman

2

Dr. Vijay Borkar

Head, Dept. Pharm. Chem., Library In-charge

3

Mr. Vinod Patil

Librarian

4

Mr. Kishor Sawale

Assistant Librarian

5

Dr. Prakash  Kendre

Head, Dept. Pharmaceutics,

Member

6

Dr. Shailesh Kewatkar

Head, Dept. Pharmacognosy,

Member

7

Dr. Subhash Deshmane

Associate Professor, Member

8

Mr. Sharad Tayade

Assistant Professor,  Member

9

Mr. Somnath Vibhute

Assistant Professor,  Member

10

Mr. Sachin Borikar

Assistant Professor,  Member